Japanese Maples and Evergreens specializes in Rare and Hard to find Japanese maple trees, conifers, evergreens, bamboo and wisteria and a few other specialty plants. There are several hundred varieties of Acer Palmatums (Japanese maples) and evergreens, with upright growers, lace leaf varieties that canopy, and many that are great for bonsai. We do most of the Japanese maple and conifer grafting, and we grow everything in our nursery. Japanese maples and evergreens are very care free once established! Plant a Japanese Maple or conifer today.
We ship grafted Japanese maples and conifers, seedlings, bamboo, wisteria and other plants up to 4 feet tall. We specialize in Japanese maples and conifers and are expanding into many vines and flowering plants.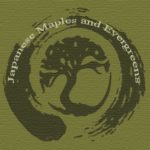 Contact
Japanesemaplesandevergreens1@yahoo.com
Subscribe to our Newsletter
Receive special offers and news directly in your email!