The Winter landscape can be dull and boring. Add some life to your garden by bringing in some colorful Evergreens with attractive characteristics.   Here are a few of my favorite varieties that can really brighten up your winter landscape.
Cryptomeria japonica 'Elegans'  (Plumose Japanese Cedar)  Feathery foliage is green in summer and with the onset of cold weather turns a mahogany, bronze red in the late autumn and winter!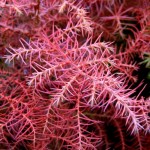 Pinus densiflora 'Aurea'  (Golden Japanese Red Pine)  A golden form of Japanese red pine with orange-colored bark, makes a fantastic glowing Specimen in the Winter months and a light green in the Summer.
Pinus strobus 'Winter Gold'  (Winter Gold Eastern White Pine) a vigorous Evergreen with an open pyramid all habit slim needles turn a beautiful bright gold in the winter.
Picea mariana 'Aureovariegata'  (Variegated Black Hills Spruce)  This little known dwarf sports cream-colored needles along the branches wherever the sun touches it.  Very elegant and delicate looking.  but don't let the delicate look fool you, this spruce is very tough and is hardy to zone 2!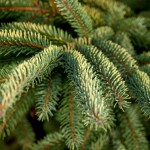 Pinus Sylvestris 'Inverleith'  (Variegated Scotch Pine)Small white needles emerge from bright white candles and gradually mature to long green needles with white tips giving the entire tree a frosted appearance! A striking Evergreen specimen selected by the Royal  Botanical  Garden at Edinburgh for it's creamy white variegation. Very new to the U.S.
Pinus virginiana 'Wate's Golden' (Wate's Golden Shrub Pine) Needles are a bright green in summer before turning to a beautiful golden yellow in winter.
Abies koreana 'Horstmans Silverlock'  (Silverlock Fir) The needles are twisted upwards so that they catch the light, revealing silver undersides, giving the impression of an exuberantly flocked Noble Fir.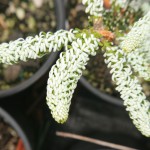 Cryptomeria japonica 'Sekkan Sugi' (Sekkan Sugi Japanese Cedar) This interesting variety of cryptomeria is also sometimes called 'Golden Curls'. Mainly because of its very distinct, bright creamy yellow, weeping curls at the end of each branch.
Picea abies 'Aurea Magnifica' (Magnificent Golden Norway Spruce) a very slow growing golden pyramidal form of Norway Spruce.  This Spruce is hard to come by in the nursery trade!
Pinus parviflora 'Ogon Janome' (Dragon's Eye Japanese White Pine)Certainly among the more brilliant of the pines and deserving of wider use in areas where dazzling year round color is desired.  Short green needles each boldly highlighted with a prominent bright yellow band! A Treasure in any landscape!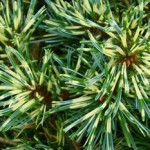 Pinus parviflora 'Tanima No Yuki'  (Tanima No Yuki Japanese White Pine)  a very rare and highly sought after Specimen.  White variegation is always present in varying degrees throughout the seasons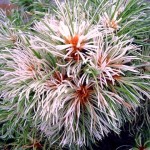 Pinus sylvestris 'Gold Coin'  (Dwarf Golden Scotch Pine)  A golden form of the "Scots Pine". The thick needles are brilliant golden yellow in the winter and throughout the spring, mellowing to a soft green during the heat of the summer. One of our best sellers.
Pinus thunbergii 'Shirome Janome' (Shirome Janome Japanese Black Pine) Exciting needles are dark green with dazzling golden bands. a dwarf variegated form of the Japanese black pine.would make an awesome bonsai!